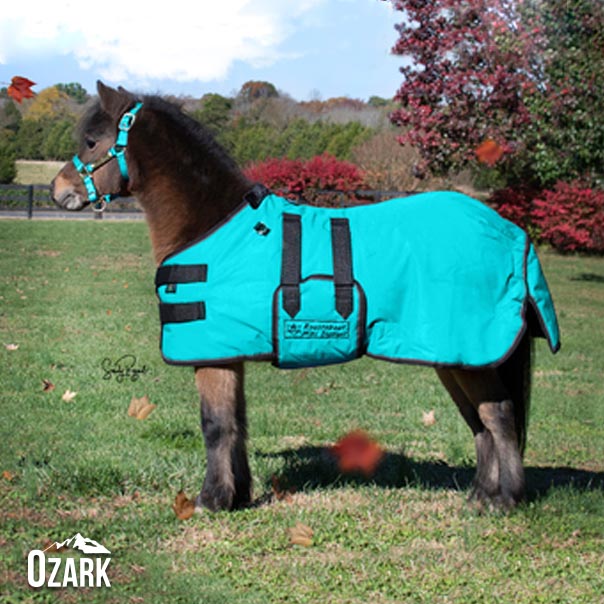 Kensington & Ozark Released 4/12/2021
For Immediate Release: April 12, 2021
PHOTOS AVAILABLE UPON REQUEST
Press Contact: Lisa Caldwell
lcaldwell@kensingtonproducts.com
Kensington Products: www.kensingtonproducts.com
Kensington Products and State Line Tack® Collaborate for Minis
Two Equestrian Giants Working Together to Bring the Best to Even the Smallest Equines
Pomona, CA: Kensington Products is thrilled to have partnered with equestrian retailer State Line Tack® to offer Ozark - an exclusive brand of horse clothing for ponies and miniature horses. 
The amazing lineup of products provide craftsmanship and attention to detail any discerning equestrian will appreciate, sized and designed especially for a barn's smallest residents. Started 15 years ago with Minitack.com, this collaboration benefits from over 30 years of experience, and the line has evolved to reflect the changes over the years to the "typical" mini. The collection now exclusively resides at State Line Tack®, who purchased sister site Minitack.com in 2017.
This partnership created the revolutionary double Velcro® closures that mini owners absolutely adore, because they ensure that the blankets stay on even the most accomplished Equine Houdinis. Currently the line's best sellers are the Roustabout Blanket and the Harness Bags, both which have a near cult-like following in the miniature community. 
"Just because they are small doesn't mean that they don't deserve excellent fit, attention to detail, and top-quality products," says Mini Specialist Lisa Caldwell, who owns a whole herd of famously adorable miniature horses. "These products will protect your smallest stablemate just as well, if not better, than items you can buy for full-sized horses – and the designs make the owner's lives easier, to boot!"
Visit statelinetrack.com to see the entire Kensington Ozark collection.
About Kensington Products: Kensington Products is a family-owned and operated business known for fashion-forward, high-quality equine products designed in the USA. Started in 1954, when they introduced the first Canvas Turnout Blanket as well as the bareback pad to the industry, they strive to protect horses from the elements while saving equestrians time and money. More than just a "pretty face", their team of like-minded individuals share a passion for the equine lifestyle that enable them to design innovations such as their patented and legendary Protective Sheet. All products undergo rigorous quality testing and inspection, resulting in products that riders can have faith in, backed by a Lifetime Guarantee.