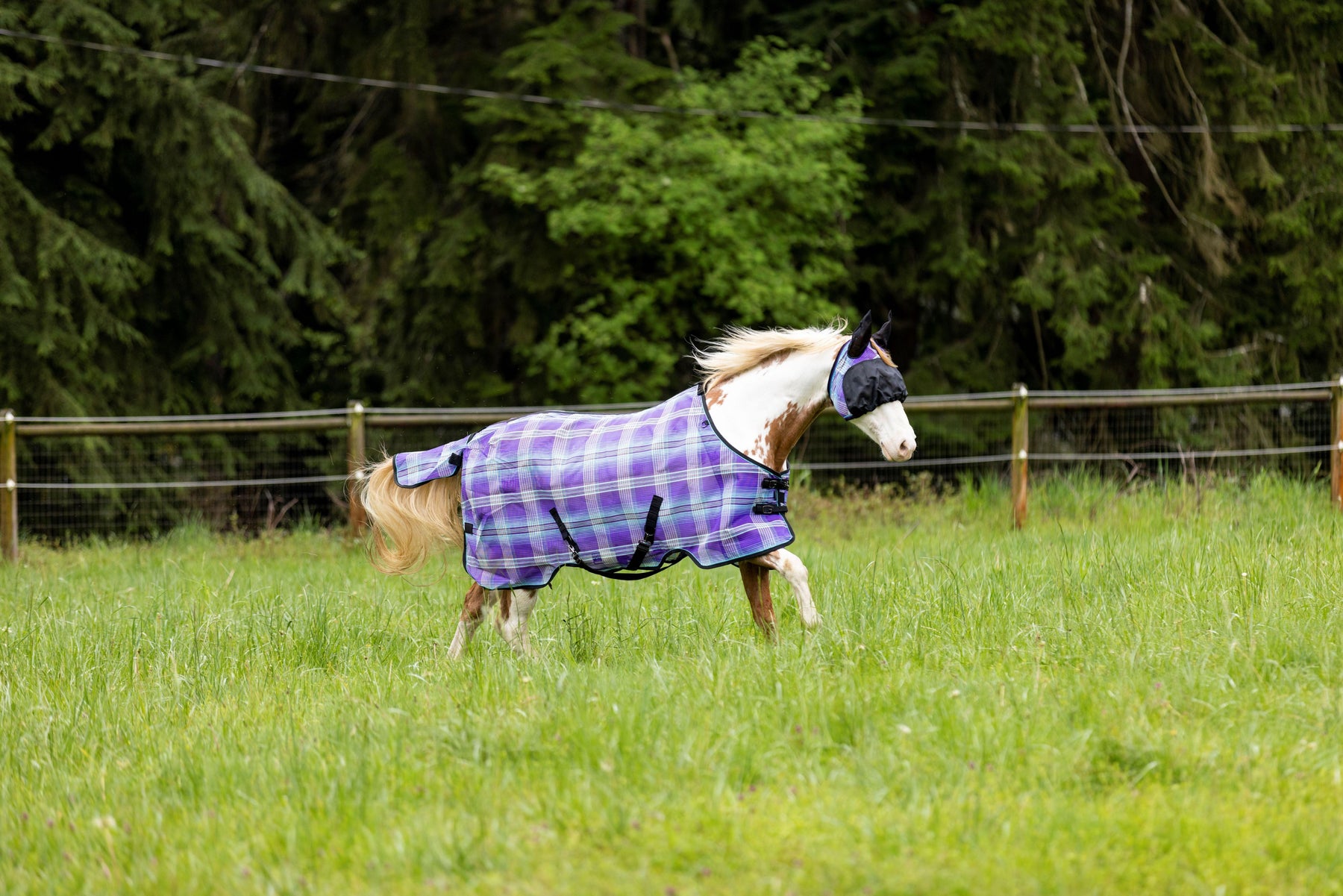 The Importance of UV Protection for Horses
Equestrians pride themselves at taking exceptional care of their equine partners - so don't overlook the health benefits of shielding your horse from the sun's rays, and read on to see how Kensington Protective Products can help!
As horse owners, it is important to understand the potential risks associated with prolonged exposure to the sun. Just like humans, horses can suffer from sunburn and skin damage caused by ultraviolet (UV) radiation. In fact, horses with light-colored coats and pink skin are particularly susceptible to sunburn and skin cancer.

Here are some tips to help protect your horse from the harmful effects of UV radiation:

1. Provide Shade
One of the easiest ways to protect your horse from the sun is to provide access to shade. This can be in the form of a run-in shed, trees, or even a simple tarp or umbrella.

2. Use Fly Sheets, Masks and Boots
Fly horse clothing not only protects horses from pesky insects, but also provides a physical barrier against the sun's harmful rays.
Look for sheets that are specifically designed for UV protection and provide coverage for the horse's entire body, like our best-selling Protective Sheet that features 73% UV protection. Also available in Mini, Pony, and Draft sizes to protect your mighty steeds of any size, you can provide ears to tail shielding with the addition of the Neck Cover and Belly Band. 
Our original Fly Mask with Mesh Ears provides 73% UV protection, and that collection is available in over a dozen styles and sizes. If your horse requires more, check out our exclusive UViator Collection - they block 90% of rays for the ultimate protection. 
Don't forget about the legs - especially the pink skinned white ones! Our traditional Fly Boots or revolutionary Bubble Fly Boots block UV and pests for a happier horse. 

3. Apply Sunscreen
Yes, horses can wear sunscreen too! Look for a sunscreen that is specifically formulated for equine use and has a high SPF rating. Be sure to apply it to areas that are particularly susceptible to sunburn, such as the nose, ears, and pink skin around the eyes. Barn hack: you can use diaper rash ointment, like Desitin, as sun protection - the zinc blocks the UV rays. 

4. Limit Turnout Time
If possible, limit your horse's turnout time during peak sun hours (10am-4pm) to reduce their overall exposure to UV radiation. Consider adding a Stall or Aisle Guard while they're in the barn to to increase airflow. Bonus, nighttime turnout is less buggy, so your horse will be less irritated by pests, too!

5. Provide Fresh Water
It is important to ensure that your horse has access to fresh, clean water at all times. This is especially important during hot weather, as dehydration can increase the risk of sunburn and other health issues.

By taking these simple steps, you can help protect your horse from the harmful effects of UV radiation. Remember, prevention is key when it comes to sunburn and skin damage in horses.