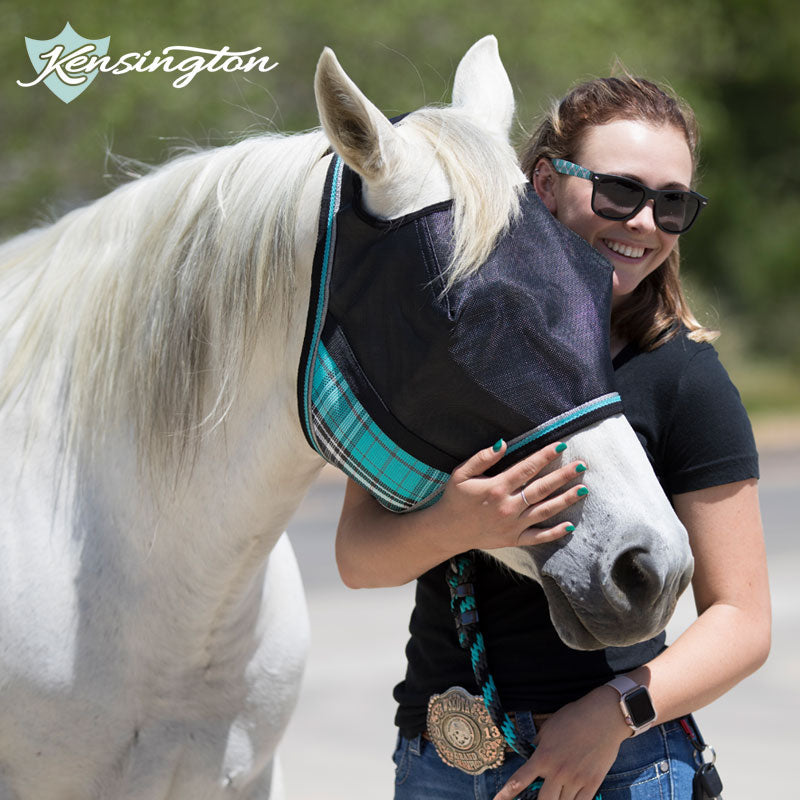 UViator Collection Released 4/26/2021
For Immediate Release: April 26, 2021
PHOTOS AVAILABLE UPON REQUEST
Press Contact: Lisa Caldwell
lcaldwell@kensingtonproducts.com
Kensington Products: www.kensingtonproducts.com
Kensington Products Provides Superior Protection with the UViator
90% UV Rating Plus 78% Air Permeability Combine for the Ultimate Fly Mask
Pomona, CA: Kensington Products is once again on the cutting-edge of equine protective design with their UViator Fly Mask collection. 
Operating under the premise that "if you need sunglasses, your horse needs them too," Kensington sought to design a fly mask that outperformed others on the market when it came to UV protection and breathability. The creation of the new High UV Textiliene® Solar Screen was the answer – with 90% UV rating and 78% air permeability, equestrians can now provide premium protection while keeping their horses cool. 
The mask also features a double locking lead rope fastener which turns it into a CatchMask® with the clip of a lead rope, streamlining turn in and turn out routines for handlers. The interior is lined with soft fleece, and they are available with or without ears, and with a long removable mesh nose to prevent sunburned muzzles. 
New for 2021 is a dartless design UViator, which features web trim and a forelock hole for a no-shift fit. This style is also available with or without ears. 
If you have a horse suffering with uveitis, with pink skin, or pale eyes, visit https://kensingtonproducts.com/ for the UViator solution you have been waiting for!
About Kensington Products: Kensington Products is a family-owned and operated business known for fashion-forward, high-quality equine products designed in the USA. Started in 1954, when they introduced the first Canvas Turnout Blanket as well as the bareback pad to the industry, they strive to protect horses from the elements while saving equestrians time and money. More than just a "pretty face", their team of like-minded individuals share a passion for the equine lifestyle that enable them to design innovations such as their patented and legendary Protective Sheet. All products undergo rigorous quality testing and inspection, resulting in products that riders can have faith in, backed by a Lifetime Guarantee.