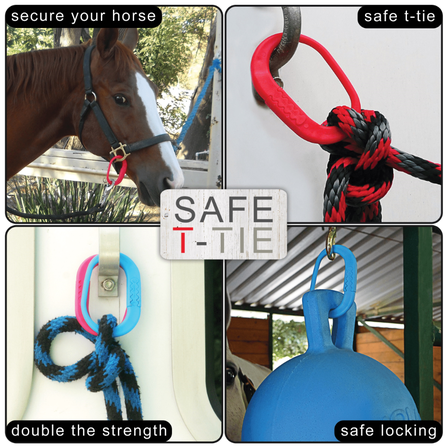 Kensington Products' Safe-T-Tie Released 5/24/2021
For Immediate Release: May 24, 2021
PHOTOS AVAILABLE UPON REQUEST
Press Contact: Lisa Caldwell
lcaldwell@kensingtonproducts.com
Kensington Products: www.kensingtonproducts.com
Kensington Products' Safe-T-Tie Mitigates the Danger of Tying Your Horse
A Revolutionary, Portable, and Reusable Safety Release Every Owner Should Own
Pomona, CA: Most owners need to tie their horse at some point. And while it would be nice to have every horse stand tied like an angelic, life-sized lawn ornament, equestrians know that is just not usually the case! As flight animals, any number of outside factors can send even the most reliable horse into a high-speed panic. Depending on how solid the horse's halter and rope are, and what he is tied to, the horse can injure his neck and back, legs, or worse. 
Enter the Safe-T-Tie – another revolutionary product brought to you by Kensington Products. Designed in collaboration with highly innovative engineers, veterinary nurses, and equine muscular therapists, Safe-T-Tie engages with just enough tension to ensure the safety of your horse. With 5 customizable settings, you can choose the perfect level of resistance based on your horse's training and the situation at hand.  
Safe-T-Ties can be used for just about anything else around the barn, as well – safely secure feed bags, buckets, hay nets and more! Because horses love nothing more than shocking their owners with large vet bills!
Sold in a convenient 2-pack and available in 10 colors, visit https://kensingtonproducts.com/collections/stall/products/safe-t-ties for more information.  
About Kensington Products: Kensington Products is a family-owned and operated business known for fashion-forward, high-quality equine products designed in the USA. Started in 1954, when they introduced the first Canvas Turnout Blanket as well as the bareback pad to the industry, they strive to protect horses from the elements while saving equestrians time and money. More than just a "pretty face", their team of like-minded individuals share a passion for the equine lifestyle that enable them to design innovations such as their patented and legendary Protective Sheet. All products undergo rigorous quality testing and inspection, resulting in products that riders can have faith in, backed by a Lifetime Guarantee.