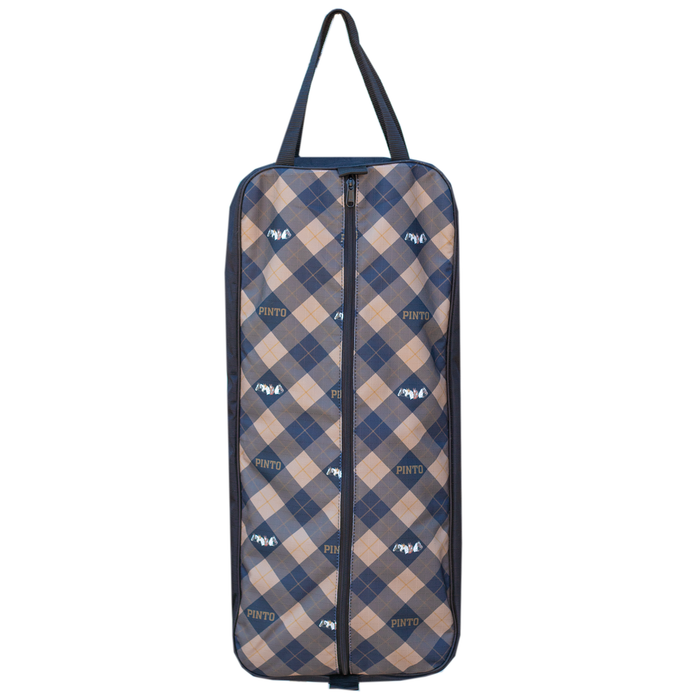 PtHA Bridle Bag
by Kensington Protective
Kensington Products has been a sponsor of the Pinto Horse Association for the last decade, and they are pleased to not only continue that partnership, but to expand it with the development of an exclusive Pinto Line! Designed in coordination with the Association group, it was created to remind equestrians of the heritage of the Pinto Horse, without overshadowing their beauty.

Durable & Reliable:

 

1200D nylon construction will stand up to a busy season of travel.
Padded Protection:

 

Light padding protects your investment during storage or travel, and the nylon lining doesn't hold debris like shavings or hay. 
Triple Hangers: 3 interior sets of nylon web hanging straps with hook and loop closures accommodate all your strap goods. 
Slick Nylon Lining:

 

Not only smooth against your bridles, it doesn't hold onto hay, shavings, dirt or debris that could damage the leather, either.
Handy Handles:

 

Tough nylon handles are easy to snag, so you can be on the go, worry free.
Perfectly Personalized:

 

Make it yours (or theirs!) by adding embroidery. 
* Colors may appear differently on every device, actual colors are black and light brown.