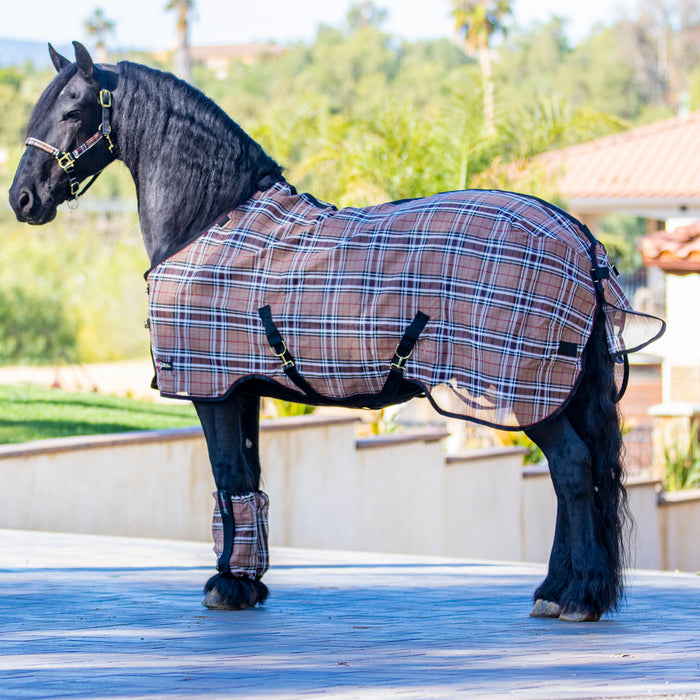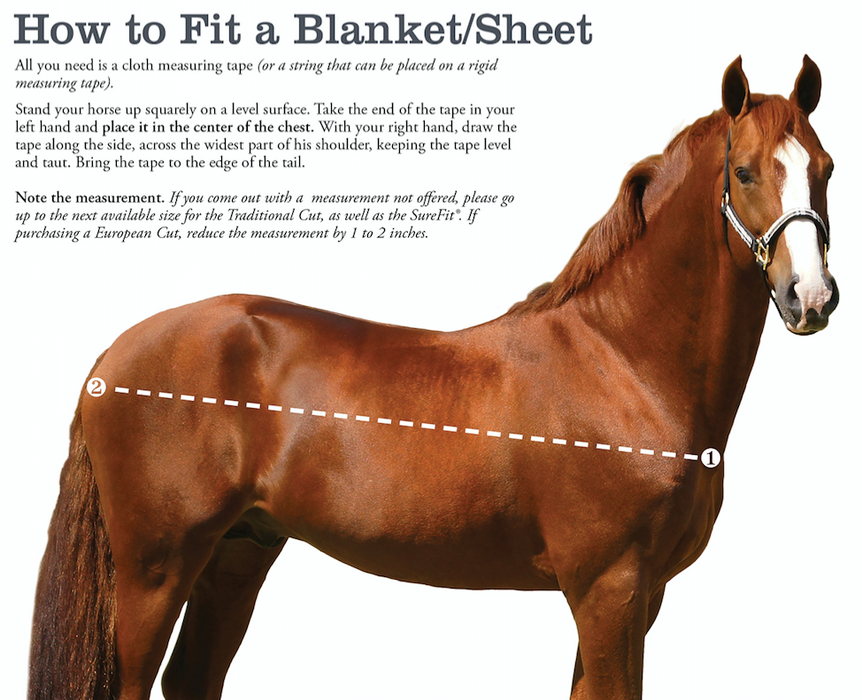 73% UV Draft Protective Fly Sheet SureFit® Design for an ideal Fit
by Kensington Protective Products
One sheet - A herd of problems solved
12 REASONS TO LOVE OUR SIGNATURE PROTECTIVE SHEET
Born in the USA: Our sheets are manufactured with USA made 1000 x 2000 Denier Textilene® fabric. Hailing from Alabama, it is specially formulated to withstand fading, fire, mildew, soiling and wear and tear, even in the most extreme weather conditions. 
New Features: Now available with belly arches and a removable tail flap.
Wearable curry comb: Throw the sheet on a dirty or clean horse and they will get, or stay cleaner. The Textilene® brushes the coat as the horse moves, preventing dirt and poop from sticking. It's a must-pack item for any show, grey horse, or mud magnet.
Promotes a healthy coat: Customers report healthier and shinier coats with horses wearing our sheets. It might just be that their horses are staying cleaner but we also believe it promotes oil production in the the hair and skin leading to a healthier coat.

Zebra Stripes? Turns out patterns confuse flies, any pattern, be it stripes or plaid. Not only does our Textilene® prevent flies from biting your horse should they land, most flies will be too confused to land anyway. Yahoo!

Smart + Functional Hardware: Designed in Surefit® Cut with buckle and snap-front chest closure for easier on-and-off, 2 criss cross adjustable and replaceable belly straps with 2" snaps and d-rings, detachable elastic leg straps and a contoured fit.

No Gussets: No rubs. The old style sheets all had gussets, and horses hated them. Like the shoulder pads of the 80's and 90's, they had to go. Fitted properly, our sheets don't rub the shoulders. Happy Horses.

Pesky Neighbors? Biting horses will always be an issue but with the Kensington Protective sheet your horse now has an armor to protect against them. The tough and slick Textilene® material will be the only thing the neighbors bite from now on.

Protects the coat from fading: With 73% UV protection your dark horses will stay dark longer. Don't forget the mask and neck cover.

Tear Resistant: Textilene® is a fused weave fabric meaning that even if your clever horse manages to make a tear, the fabric won't continue to unravel on its own.

Fire retardant: in an emergency situation keep your protective sheet on your horse. The sheet will protect from scratches and debris and in the event of fire the sheet material resists burning and will stick to itself and not your horse. 

Snow Protection? Clever Kensington customers were the first to discover the benefits of placing their protective sheets over their winter turnouts. The sheet protects old and new turnouts while also giving a barrier so snow stays off the blanket material allowing it to melt and run off.

Quite simply, we believe our protective sheet is the best on the market, and we stand by it. We have a lifetime guarantee.  No joke, it's one of the best in the business.
Description:

Provide comprehensive summertime protection for your draft horse with the Protective Sheet with Surefit®. Designed to fit a wider range of draft types, from narrow and lanky to broad and stocky, it is made of ultra-durable Textilene®, a 1000 x 2000 denier mesh that provides 73% UV protection, 78% air permeability, fly and insect protection, and fire resistance, while not absorbing heat from the sun or your draft horse. The weave actually helps shorten grooming times by not only keeping dirt and debris from the coat, but by actually working the coat as they move, bringing out the natural oils and removing loose hair. The UV protection helps keep your draft's coat from bleaching out and prevents sunburns. Air permeability and non-heat absorbing properties ensure your draft stays cool and comfortable in the hottest weather. In the event of a fire, this material also resists burning, and will stick to itself, not your draft horse. Features include quick clip adjustable front closures, padded wither, leg arches that provide additional adjustability for the detachable 2" criss cross surcingles with snaps and d-rings, removable and adjustable leg straps with snaps, and removable tail cover.
Features:
1000 x 2000 denier durable Textilene® mesh
73% UV protection
78% air permeability
Surefit® cut
Quick clip adjustable front closures
Removable criss cross surcingles
Removable rear leg straps
Padded wither
Removable tail flap
Sizes: 
Care Instructions:

Hand wash with cold water and mild detergent, line dry