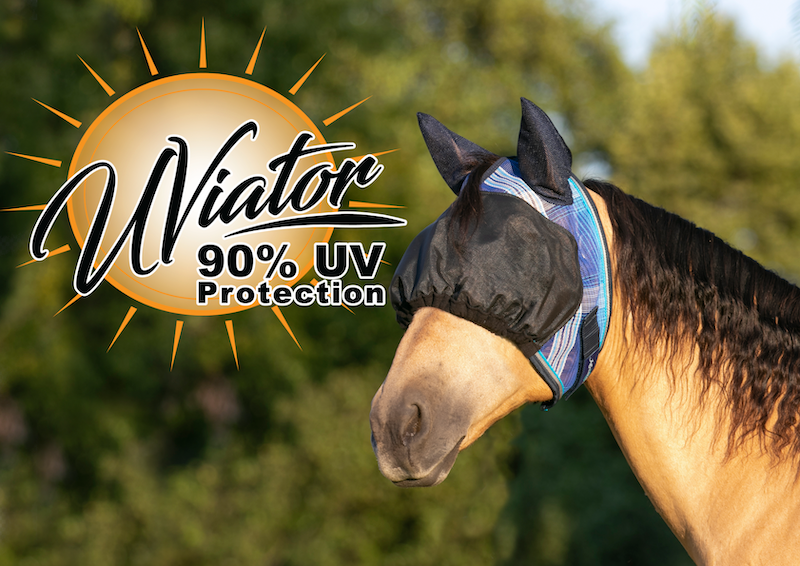 Kensington Offers Superior UV Protection Released 8/23/2021
For Immediate Release: August 23, 2021
PHOTOS AVAILABLE UPON REQUEST
Press Contact: Lisa Caldwell
lcaldwell@kensingtonproducts.com
Kensington Products: www.kensingtonproducts.com
Kensington Offers Superior UV Protection
Their New Fabric Offers 90% Solar Screen
Pomona, CA: Kensington is serious about protecting horses, whether from sun, bugs, rain, snow, or wind. That innovative spirit has pioneered their latest breakthrough – Textilene® Solar Screen, a superior fabric that blocks 90% of harmful UV rays to protect the most sensitive of eyes. 
"Our tried and true Textilene® fabric has always offered 73% UV protection, but, as a company that always seeks to evolve and improve, we wanted to do even better," states Anthony Gatto, President and Owner of Kensington Products. "We know that the new Textilene® Solar Screen fabric is exactly what sensitive-skinned and -eyed horses need and are looking for."
Available in both a CatchMask® and a new Dartless version, both with or without ears, and with or without extended nose coverage. The CatchMask® features a double locking lead rope fastener that enables a lead rope to be clipped to the mask, eliminating the need to also put on a halter. The new Dartless version features an innovative design that provides a more universal fit. 
 UV protection for riders' eyes is important, too – and Kensington LOVES the Matching Game! That's why we also offer matching sunglasses to our signature Kensington plaids. Now you and your horse can block the rays while looking coordinatingly cool!
Visit www.kensingtonproducts.com to view the entire collection of UV rated sun solutions for horses and their humans!
About Kensington Products: Kensington Products is a family-owned and operated business known for fashion-forward, high-quality equine products designed in the USA. Started in 1954, when they introduced the first Canvas Turnout Blanket as well as the bareback pad to the industry, they strive to protect horses from the elements while saving equestrians time and money. More than just a "pretty face", their team of like-minded individuals share a passion for the equine lifestyle that enable them to design innovations such as their patented and legendary Protective Sheet. All products undergo rigorous quality testing and inspection, resulting in products that riders can have faith in, backed by a Lifetime Guarantee.